LiveOps Techniques: The LiveOps Lifecycle
LiveOps Techniques: The LiveOps Lifecycle
We've recently written a guide for anyone interested in learning more about LiveOps, whether you're new to the subject, already a practitioner who wants to brush up on some aspects that you're less familiar with, or an expert. You can download the whole guide here. Over the next few months, we'll be excerpting highlights from this guide and featuring them here on our blog.
It's never too late to get started

Once you've decided to adopt a LiveOps methodology, you'll need to make choices about what to do and how to go about it. The biggest bang for the buck comes from embracing LiveOps early in your game's development, so you can design your game to maximize the advantages you get from game services.

However, it's never too soon to start: you can still get a lot of benefit from adding LiveOps later in your development timeline, even long after a game has launched. Furthermore, the experience of experimenting with LiveOps in a live game will provide useful experience to help plan LiveOps in your next game.

Think about LiveOps over the lifecycle of your game
Pre-production is the best time to think strategically about how you can take advantage of LiveOps features in your game design. For free-to-play games in particular, this is a great time to think through how you plan to use in-app purchases; for example, building your game on top of backend services can make it easy for you to configure your stores and update inventory on the fly. That's important because it reduces the risk and overhead associated with several key activities: running live events, testing offers to understand the impact on your game's monetization prior to making them widely available, keeping your game fresh by making limited-time offers, and making segmented offers. This is also a good time to think about the needs and wants of your target players, since a big benefit of LiveOps is increased engagement with your player community. What will get their attention? What will encourage them to really dig in?

There are two modern strategies to development for live games. Many studios still follow waterfall methodology, often taking a year or more to design and launch a fully-realized, fully-polished game with most or all of its planned features ready on day one. With this strategy, the more time you invest in upfront development, the more you've got riding on a smooth and successful launch - so don't let the pressure to launch quickly cause you to shortchange your game's analytics. It's easy to wire in the ability to capture key data like player logins, purchase events, and custom events - all of which you'll need to have in order to understand and improve your games' performance.

The other approach to development is lean methodology, as used by Fluffy Fairy Games for Idle Miner Tycoon. Fluffy Fairy spent only 8 weeks in development before releasing the game and starting to gather feedback, which encouraged them to make rapid iterations and improvements based on the response they were getting from actual customers. If this is your strategy, you may choose to capture fewer data points at first while you focus on finding and pleasing a smaller base of customers - but it's still critical to make sure you focus heavily on the KPIs you decide are most important, since you'll need to be able to move quickly and you'll want to make sure you're focusing limited resources on the right problems.

Content is another area where advance planning can save you significant time once your game is live, particularly if you don't plan frequent update cycles. If you want to be able to keep your game fresh without needing an update or doing dynamic gifting, consider creating your content as dynamic text fields, images and other configurable content (e.g. Unity AssetBundles) that can be distributed on the fly and turned on at your discretion. This has two significant benefits: ease of localization and speed of iteration. You'll also want to think about automation early on, so that you can move quickly to stop problems like cheating and fraud before they blow up and potentially ruin your game for other players. So think through a plan for how you'll be able to take bulk actions as well as set and create triggered events and scheduled tasks, even if you don't plan to do these right at launch.

Collecting and analyzing your crash data and retention metrics is also a must, even if you are taking a lean approach to development. "We mostly focused on the game itself during development, because nothing else would make sense if the game wasn't fun," says Fluffy Fairy Games' Oliver Löffler. "We did focus on crash analytics and basic analytics to measure retention, which was a key performance indicator for us. We also built functionality to make sure we could make commits without breaking anything. At the beginning we were aiming to make something that would be fun for up to 4 days, and see if players would be engaged enough in that time period to add on more content to sustain engagement over a longer period."

If you've invested many months of work into your game, soft launch is an important way to de-risk your game's launch. Pick a smaller geography that shares the same language as your core audience (Australia, New Zealand, and Canada are all popular options) and run your game for 1-3 months. This is where you should be making use of all the analytics you wired up, looking for flaws you can correct so your full launch goes perfectly. Smart soft-launching saved Nvizzio's Roller Coaster Tycoon Touch from falling into oblivion. At the time of soft-launch, the game was seeing 65% player loss on day one. The team dug into the data and realized that their tutorial was too complex. So the team changed the flow of the tutorial. By the time they released worldwide, the game topped the charts during release week.
At launch, your key concerns are around customers - your ability to attract players, retain them over time, monetize them effectively, and scale to accommodate them. The effort can be non-trivial, especially if you go it alone - as Cem Aslan, CEO of ColdFire Games puts it, "Especially as a small studio, it can be very time-consuming to maintain and scale your own servers." Launch is your first opportunity for the investment you've made in your game to start paying off, but finding the right path forward can be tricky. You'll need analytics to help you understand your cost of acquisition and your customer lifetime value, both critical to your understanding of how much you can afford to spend on user acquisition. Wiring up your game for analytics will let you understand which customers are profitable, and how your sources of players stack up. That way, you can invest in the most efficient channels and stop wasting money and effort on the losers, and you can understand how different segments of players are performing and track your efforts to improve your player metrics.
Once you're armed with detailed knowledge of how your game is truly performing, you're ready to dig into running live operations ("LiveOps") to maximize its potential. This is where you get the payoff from the features you wired into your game during development, so that you can make significant tweaks to your game without needing to coordinate a full update. It's becoming well understood that running live events is one of the most powerful ways to stimulate engagement with your game, but many developers don't realize that you can make a big impact with live events even if you don't have a large team devoted to this - as long as your backend services offer the tools to make this process simple and scalable. As an example, let's look at how Hyper Hippo was able to scale up their use of events on AdVenture Capitalist with a small team - and how those events drove player engagement - by utilizing PlayFab's backend services.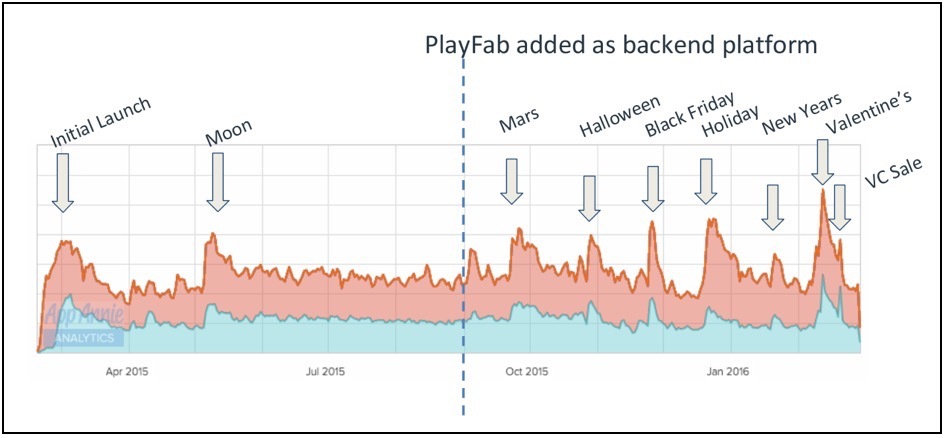 "LiveOps has definitely increased the longevity of our game - it just keeps people engaged way, way better in terms of keeping the pulse of the game alive...Having new events all the time re-invests people in the game, it re-creates the endorphin rush that players get in the first days of playing the game."
- David Ecker, Lead Producer, Hyper Hippo
The most important thing is to set goals for your event based on what you learn from analyzing your game's data, and to structure your event to address these goals - for example, drawing lapsed players back to your game or convincing players who've never spent real-money currency to make their first purchase.

In addition to events, other major LiveOps techniques include:
Special offers and promotions to boost monetization or re-engage players.
Retention and retargeting campaigns to reduce churn and boost retention.
Paid acquisition campaigns - if your players typically have a high enough lifetime value, this can have a strong return on investment.
Social features like a sharing mechanism can be a significant means of acquiring players organically. These are typically designed to drive a high number of shares through tools that make it easy to share, strong incentives for users who do share, and well-designed contextual onboarding for players who receive shares.
A smart LiveOps strategy can significantly extend your game's heyday, which has a massive impact on your game's ROI. But even after your game is past its prime, it can still be very profitable for you - if you built your game on scalable services. In the plateau phase of a game, you can dynamically right-size your backend, so you're not paying for unnecessary capacity. In fact, you have a range of options for keeping your game alive longer while preserving resources for your next title - from leaving some aspects of your game on autopilot with a dynamically scaling backend platform, to partnering with a company like Deca Games that focuses on maximizing the potential of games in their plateau phase.
Don't write off your game without thinking through your options; Deca Games has successfully used LiveOps techniques to reinvigorate games they've acquired, such as Realm of the Mad God, well into their plateau phase. A browser-based game originally invented by two developers in a 2010 hackathon, Realm of the Mad God was a cult hit that was acquired by Kabam in 2012. When Kabam shifted its priorities to mobile, the game lost focus internally and was on "life support" when Deca Games took it on. Deca grew the game without any marketing spend "by working with the community and hyper-delivering on their wants and needs," notes Deca's Ken Go, helping the game grow through word of mouth. As a result, 7 years on the game has more active players than ever before. Investing in keeping your game alive longer also presents a great cross-marketing opportunity since you've got an active audience to which you can promote your other games.
---